We aim to provide education in accord with biblical truths and principles that are academically sound and effective in helping our students to develop their God-given skills and abilities, contributing to spiritual, emotional, social and character development. Our goal is that our students will become mature Christian adults who in turn, have a positive influence on our community and beyond, to the glory of God.
2021 NAPLAN Results in the Media
Emmaus Christian College was featured in the Advertiser. Read the article here.
2021 SACE Stage 2 Results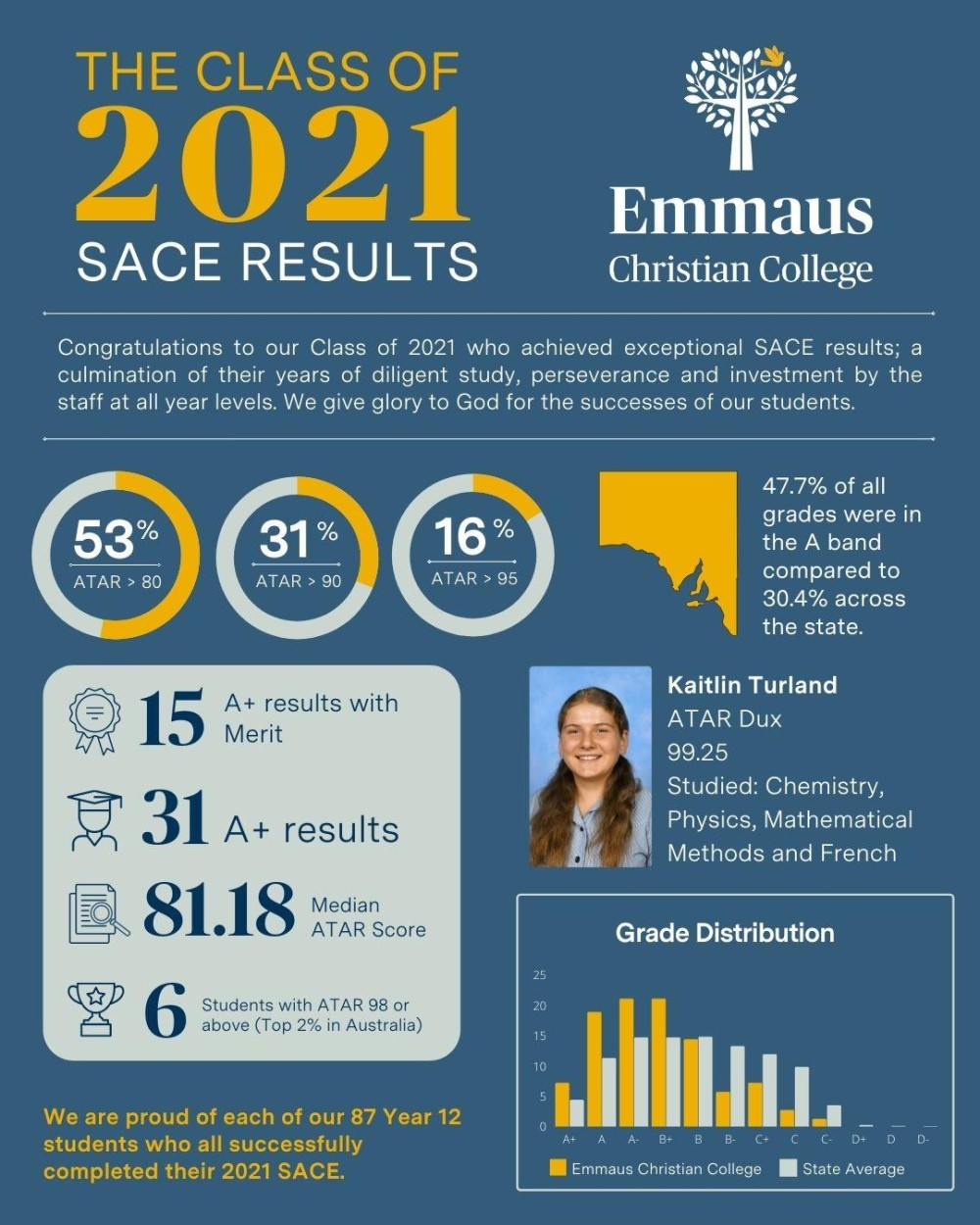 Congratulations to our Class of 2021!

We give glory to God for the successes of our students and we thank the entire Emmaus community for their support.
All our 87 Year 12 students successfully completed their SACE and the Class of 2021 achieved exceptional SACE Results. It's a culmination of their years of diligent study and hard work and investment by the staff at all year levels.
Emmaus Christian College 2021 SACE Stage 2 results at a glance:
47.65% of all Emmaus grades were in the A band - compared to 30.36% across the state
Six students achieved an ATAR of 98 of above - the top 2% in Australia
16% of cohort achieved an ATAR above 95 (13 students)

31% of cohort achieved an ATAR above 90 (25 students)
53% of cohort achieved an ATAR above 80 (42 students)
15 Emmaus students received A+ results with Merit
31 A+ Scores were awarded
The Median ATAR score of all Emmaus students was 81.18
100% of all Stage 2 subjects were awarded a C- grade or higher

Congratulations to the Kaitlin Turland who achieved the highest Emmaus ATAR score of 99.25. Kaitlin studied Chemistry, Physics, Mathematical Methods and French.

Fourteen Year 12 students are to be commended for receiving A or A+ grades for three or more subjects.
2020 SACE Stage 2 Results
2019 SACE Stage 2 Results
2018 SACE Stage 2 Results
2017 SACE Stage 2 Results
School Performance Reports