Our students are representatives of our College. We appreciate your support by ensuring the uniform is worn in the correct manner and ensure that garments are kept in good condition.
The Emmaus Christian College uniform and accessories are unique (except for shoes) and is only available from the Uniform Shop, located on the South Plympton campus, behind the Canteen.
We understand that the cost of a complete College uniform is a large initial financial outlay so we have made every effort to source the lowest prices balanced with durable fabrics. We offer second hand resale.

Download the Uniform Booklet or Price List
Uniform Shop
Our Uniform shop, located at our South Plympton Campus is the sole uniform supplier. You are welcome to visit during open hours or arrange an appointment with Christine.

Our payment options are EFTPOS and Cash and purchases may be made on lay-by.
Contact
Mrs Christine Blom, Uniform Shop Manager
uniformshop@emmauscc.sa.edu.au or call 8292 3810

Uniform Shop Open Times 2020
Mondays
8.30am to 10.00am
3.00pm to 5.00pm
Thursdays
8.30am to 10.00am
1.00pm to 1.30pm
3.00pm to 5.00pm

December 2020 Uniform Shop Opening Times
January 2021 Uniform Shop Opening Times
Uniform Policy
The College expectations are:

Parents will ensure that students are well presented by providing correct uniform items and ensuring that students are wearing the correct uniform every day.
The full uniform will be worn to and from school and it will be clean, neatly worn and in good repair.
Students will take pride in their appearance and maintain high standards of personal grooming.
Uniform items will be clearly named and students will be responsible for their belongings at all times.
Outside of school hours, students may choose to a wear plain navy jacket or coat for extra warmth. These must be removed while attending school.

Uniform Requirements
Grooming and Accessories
Junior School Uniform
We recognise that children are very physically active during play times therefore, the Early Learning Centre and Junior School uniform has been designed for comfort, practicality and durability.

The Junior School Girls 'Summer' Uniform (Terms 1 & 4) allows girls the choice of either the unisex uniform or dress. The dress is only to be worn with the jumper and not with the sports style rugby top or jacket.
Junior School Shoes
Each child should own two pairs of school shoes:

Black leather lace-up school shoes (Junior Primary F-2 may have velcro). This does not include 'lady jane' style or sports sneakers
Quality sports shoes - where possible in neutral College colours including a single colour or combination of white, blue, grey, black (F-2 may have velcro straps instead of laces).
F-6 Uniform
ELC Uniform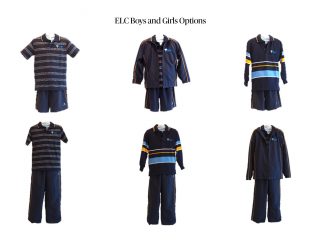 Middle School Uniform
Middle School students must wear the formal uniform for school including on excursions, formal events and assemblies. Sport uniforms is worn on fitness day and PE day.

Senior School Uniform
Second Hand Uniforms
Second hand garments are available at the Uniform Shop with no exchange or refund.

If you would like to resell your uniform, please consider the condition of your garments. We cannot accept clothing that is faded, stained, has holes or is an out dated design. Due to health reasons, we cannot accept second hand shoes, hats and socks.
How to prepare your garments for second hand sale
Please wash or dry clean and press all items (this may increase value of return)
Stitch up loose hems
Remove name tags where possible
Ask yourself, "Would I buy this second-hand for my child?"
Place items on a hanger in a bag along with a completed Second Hand Uniform for Resale Form and return to the Uniform Shop during open times or at Student Services.
Uniform Handbook and Price List